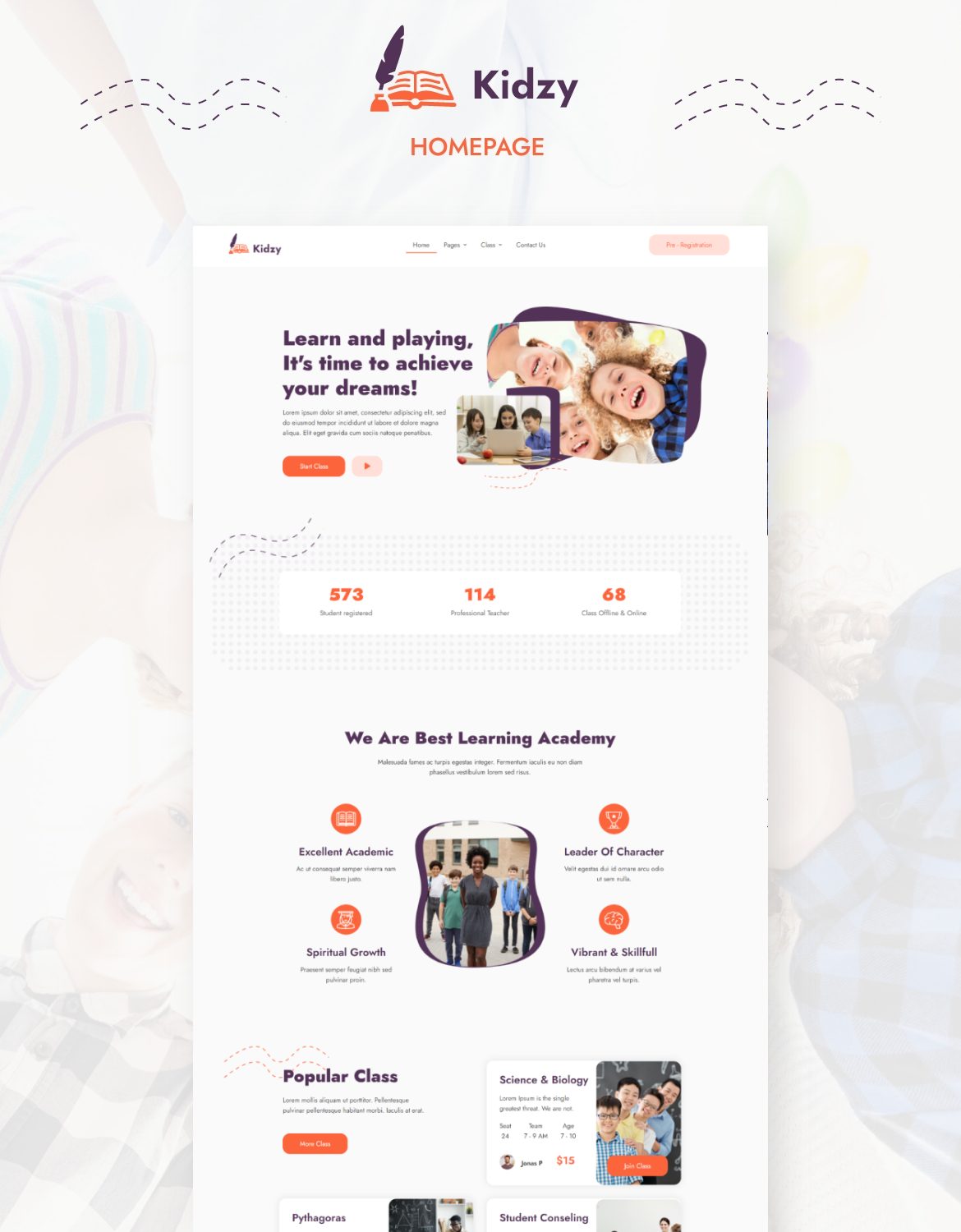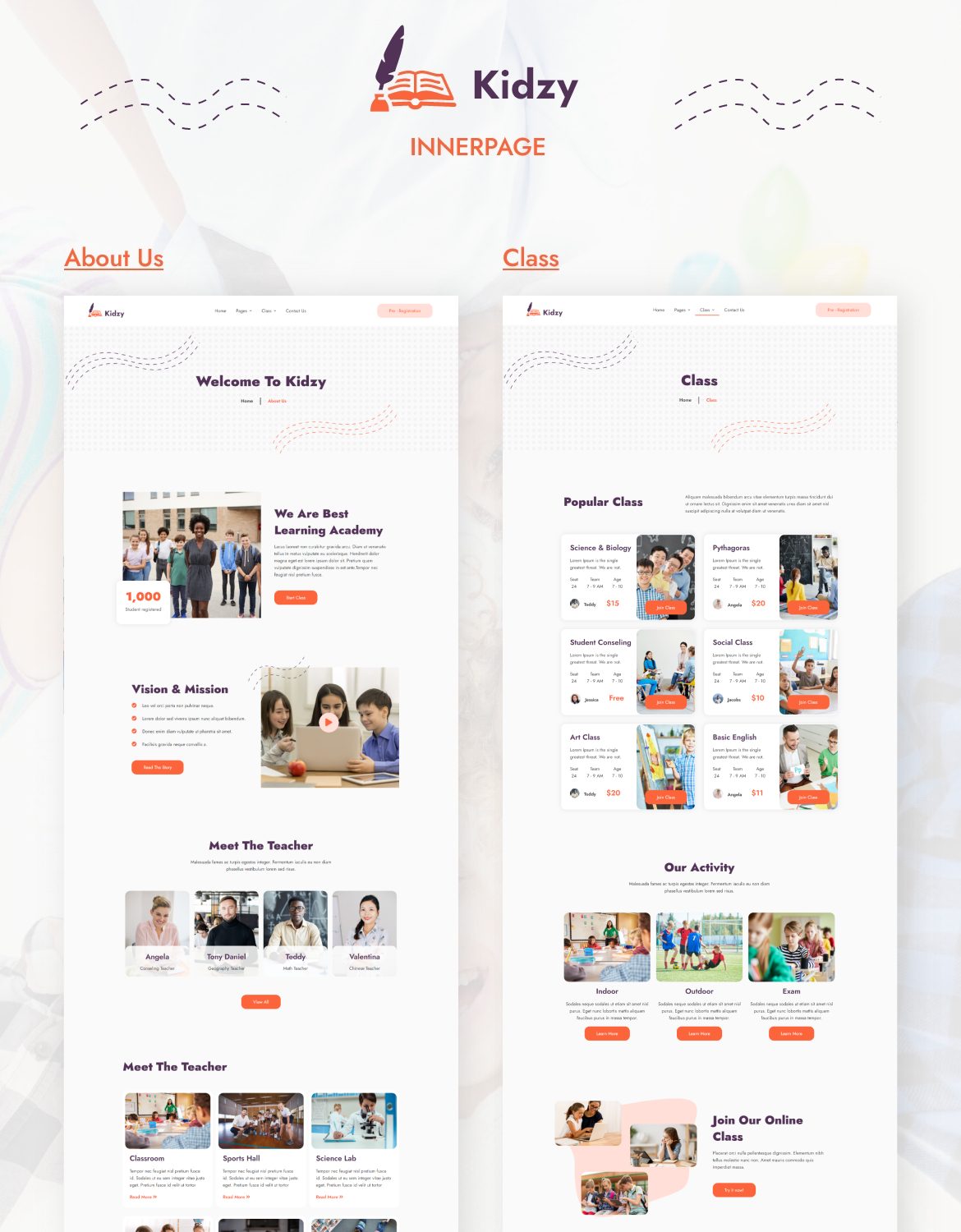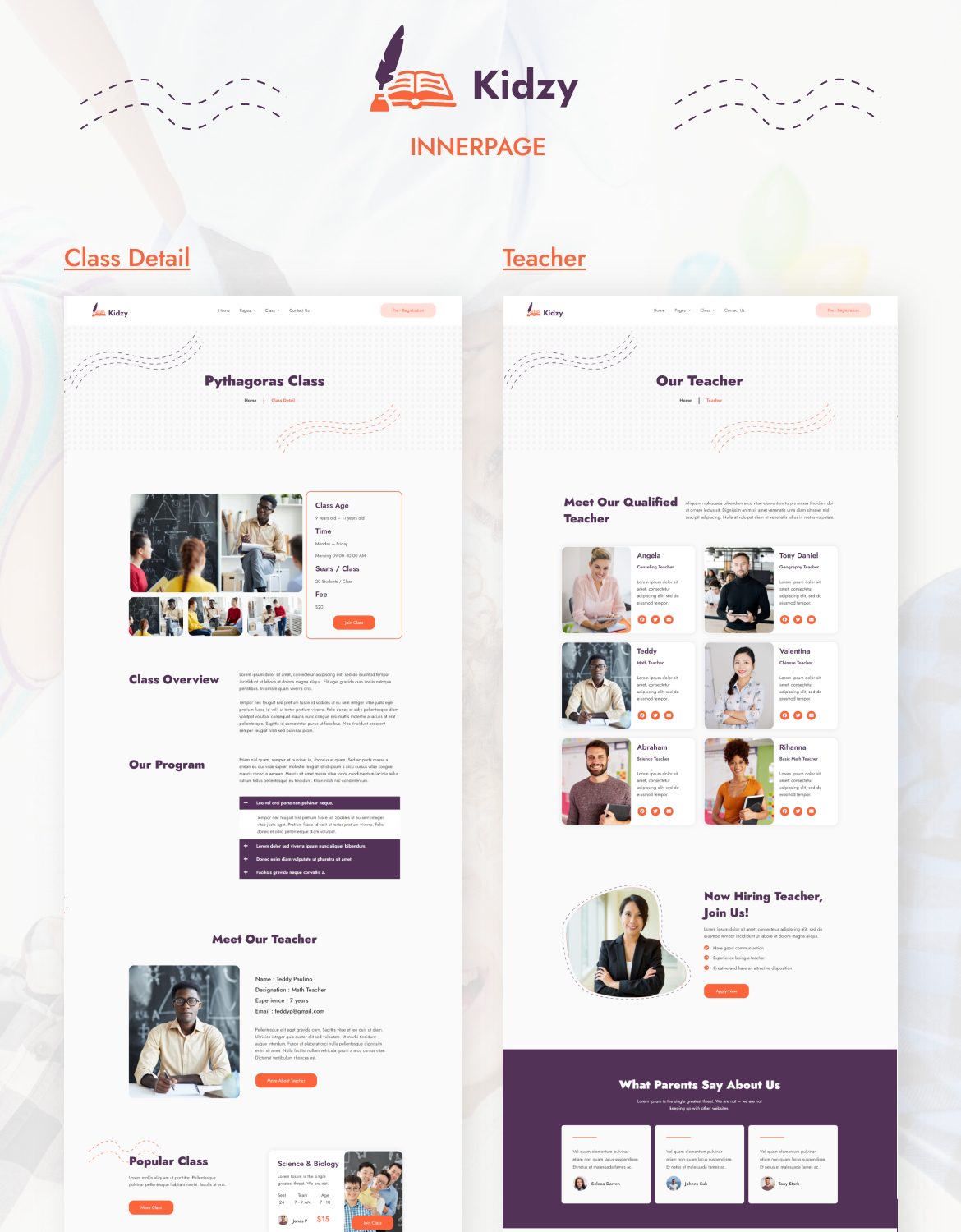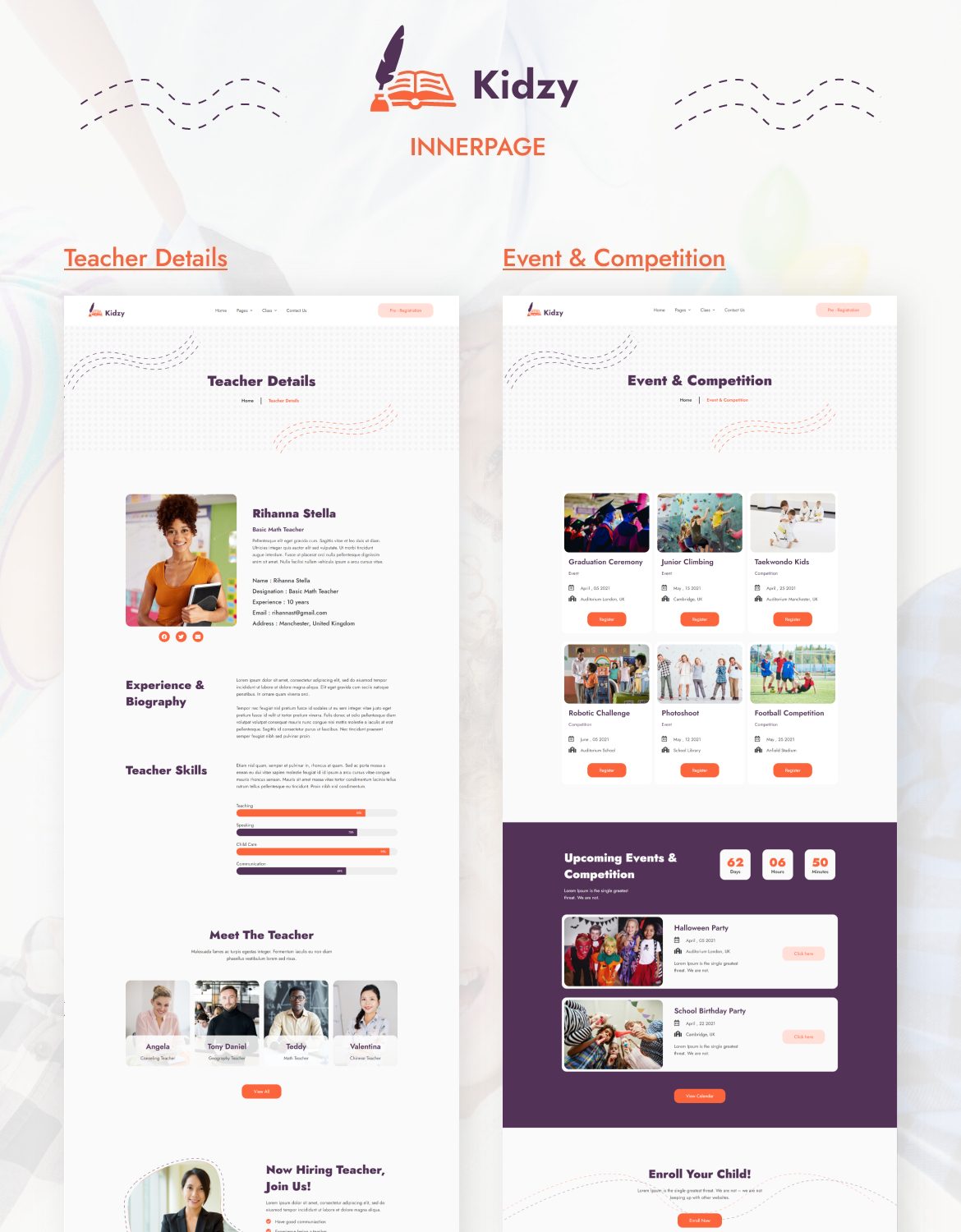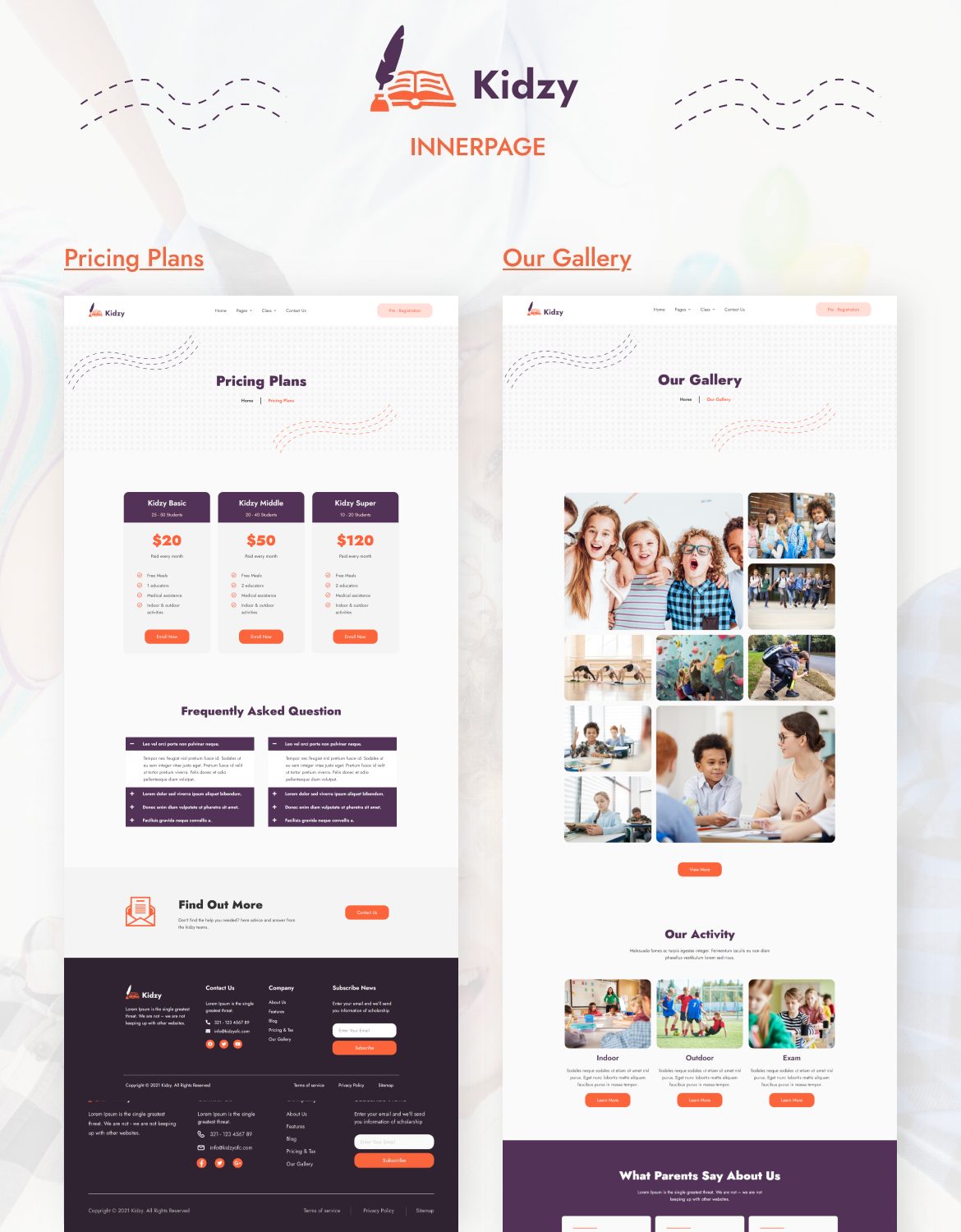 Kidzy is a modern and clean Elementor Template Kit created especially for Kindergarten and Preschool, as well as it fits perfectly for child care centers or any children-related website. This template has a beautiful and unique design with a 100% responsive layout, retina-ready, and without a single line of coding!
This template kit includes stunning carefully crafted 10 stunning templates, you can build your professional-looking business website just in a click away.
Page templates included
Homepage
Class Page
Class Detail Page
Contact Us Page
About Us Page
Teacher Page
Teacher Detail Page
Event & Competition Page
Gallery Page
Pricing Page
Features
Header Template For Theme Builder

Footer Template For Theme Builder
Elementor Pro upgrade is required for some templates and features (not included)
How to Install:
1.  Install and Activate the "Envato Elements" plugin from Plugins > Add New in WordPress
2.  Do not unzip
3.  Go to Elements > Installed Kits and click the Upload Template Kit button.
4.  Before importing a template, ensure the Install Requirements button is clicked to activate required plugins
5.  For best results, do not import more than one template at a time.
Detailed Guide
For further support, go to Elementor > Get Help in WordPress menu.
MORE ELEMENTOR PRO TEMPLATES IS ON PROGRESS…
This Template Kit uses demo images from Envato Elements. You will need to license these images from Envato Elements to use them on your website, or you can substitute them with your own.
https://elements.envato.com/image-PF5A7B3
https://elements.envato.com/image-D4YBH2W
https://elements.envato.com/40-science-and-education-icons-94MKRW
https://elements.envato.com/image-UH7K4V8
https://elements.envato.com/image-HKVZWJS
https://elements.envato.com/image-FZJW7SF
https://elements.envato.com/image-DTQFWME
https://elements.envato.com/image-PVYM9HT
https://elements.envato.com/image-AEJBEM9
https://elements.envato.com/image-4FQJKFW
https://elements.envato.com/image-JRZX7TN
https://elements.envato.com/image-YXXHLVC
https://elements.envato.com/education-icons-set-1-blue-series-7FND9D
https://elements.envato.com/image-Z93CVLY
https://elements.envato.com/image-5JXTFFY
https://elements.envato.com/image-P4KM5NU
https://elements.envato.com/image-PA49GVJ
https://elements.envato.com/image-2PELHR9
https://elements.envato.com/image-RD27RUH
https://elements.envato.com/image-M7CTE4B
https://elements.envato.com/image-PWLN8V7
https://elements.envato.com/image-T2Z4AU5
https://elements.envato.com/image-26YNYU8
https://elements.envato.com/image-5ZNHUT3
https://elements.envato.com/image-XACYWN2
https://elements.envato.com/image-GB3RZHU
https://elements.envato.com/image-A7BG8LC
https://elements.envato.com/image-P54STUW
https://elements.envato.com/image-7P54C8Z
https://elements.envato.com/image-5S9KMNQ
https://elements.envato.com/image-5U6SBPZ
https://elements.envato.com/image-6QJ7S9V
https://elements.envato.com/image-PT545EB
https://elements.envato.com/image-STAPV59
https://elements.envato.com/image-MWP2CGJ
https://elements.envato.com/image-42JTER9
https://elements.envato.com/education-icons-set-4-blue-series-RD2MWW
https://elements.envato.com/basic-essentials-icons-set-Y4XDXZV/preview/2
https://elements.envato.com/image-P5URUXE
https://elements.envato.com/image-QUHLD8Q
https://elements.envato.com/image-34H76D8
https://elements.envato.com/image-GE6JMQN
https://elements.envato.com/image-PSL7KE2
https://elements.envato.com/portrait-of-female-elementary-school-teacher-stand-5ECDT7K
https://elements.envato.com/image-CZCJ975
https://elements.envato.com/image-Q8MJL25
https://elements.envato.com/image-LU44EG9
https://elements.envato.com/image-YXJ8BY8
https://elements.envato.com/image-PG28DS6
https://elements.envato.com/image-S8PVFX8
https://elements.envato.com/girls-doing-gymnastics-3UZTQ5D
https://elements.envato.com/image-WUXAY2J
https://elements.envato.com/image-QSUG4SA
https://elements.envato.com/image-9H2D9PN